EVENTS & SERVICES FROM OUR CREATIVE DEPARTMENTS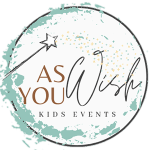 As You Wish Kids Events offers a range of Events & Services including aftercare for our New Rising Arts students, Creative Holiday Clubs, as well as Party Products & Services to make your next celebration a breeze! We handle everything including Party Activities, Decor, Face Painting, Photography, Party Packs, and even Venue Booking. We have 3 state of the art venues available; Large Dance Studio, Art Room, Play Area & Our Pottery Studio when a Clayheart pottery party is booked!
Our venue is safe & secure with biometric access control & 24h surveillance so your little ones can play while you sit back and enjoy a coffee from our self-serve cafe! Relax, we've got this. Enjoy this magical moment with your little ones and we will handle the rest.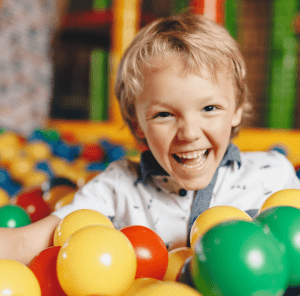 Venue Booking
Fun, Safe & Well Equipped spaces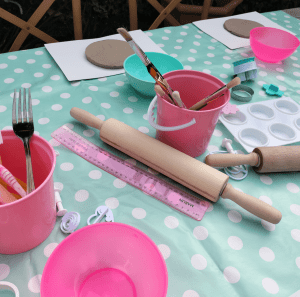 Party Activities
Guided fun with qualified child minders & creative teachers.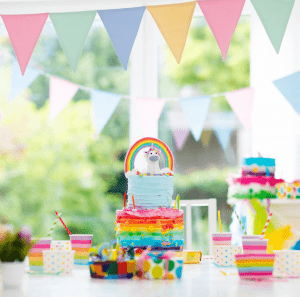 Party Decor
Bundle options including balloons, Table setting, & Photo booth.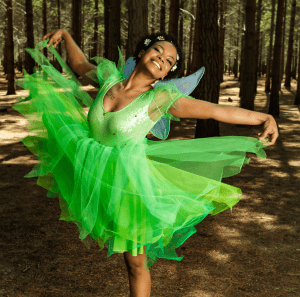 Character Appearances
From Princesses to Pirates, we bring the magic to your event!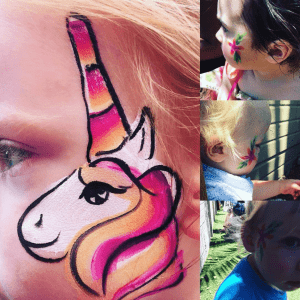 Face Painting
Face- painting booked per hour at The Studio or Venue of your Choice!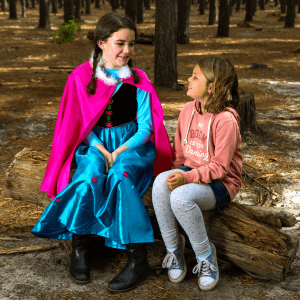 Photography
Photography sessions booked per hour at The Studio or Venue of your Choice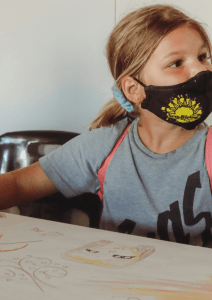 Aftercare
Exclusively for our New Rising Arts students from 1pm-5pm on weekdays. This includes creative play time, help with homework, and 1 New Rising Arts group class of choice.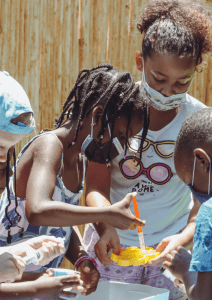 Creative Holiday Club
Exciting & interactive creative holiday club between 9am-4pm during school holidays. Includes loosely structured days filled with dance, drama, music, arts & crafts, pottery, science, free play & fun. Contact us for details.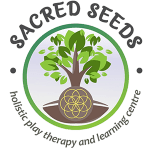 A child focused, creative & exciting playgroup for children between 2 – 4 years of age. Learn by play environment. Small class group. Creating free thinking, independent and confident little individuals! Our schedule includes arts & crafts, sensory exploration, science, yoga, dance, drama, music & more that are explored in weekly themes to create a relaxed, welcoming & educational environment without the pressure of a strict curriculum during toddler years.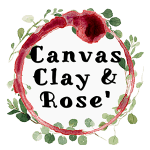 Canvas, Clay & Rosé host social and private events where you can get creative for a change while making a lasting impact. Yes, you heard right. Drinks, snacks, paint & laughs = Making a meaningful difference in a child's life as proceeds go to our registered NPO in Cape Town. Including 2-3 hour guided creativity, all materials & a welcome Cocktail to sip. We also have Cocktail Jugs & Platters available for pre-order
Join us for a 2 hour guided painting experience with local Artist-Teacher Tashai Simons, & Ceramic Artist Deborah Breach. All materials are included and you need no experience! Take a sip, let your creative juices flow, and leave with a masterpiece. You can join our monthly events at The Studio, or book a private event with us for any excuse to celebrate… We're not kidding. We do Birthdays, Hen's nights, Kitchen Teas, Baby Showers, Corporate Team Building Events, and even Kids Parties!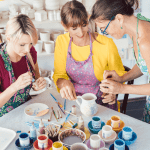 Pottery Private Events & Team building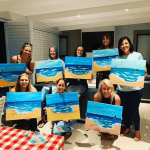 Painting Private Events & Team building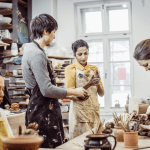 Pottery Monthly Social Events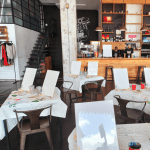 Painting Monthly Social Events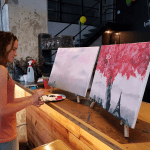 Painting Monthly Social Events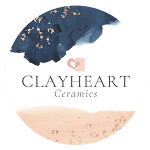 Our state of the art Pottery Studio offers relaxed and therapeutic Workshops for beginner to advanced students. Students will learn the basics of pottery through hand-building techniques and use these skills to create sculptural and functional pieces. Unique Workshops termly covering, sculpting, jewelry making, Pottery Painting and more. Workshop fee includes all clay needed and firings.